The name "Yang Huiyan" tops the People's category on Baidu today, beating the runner-up "Mao Zedong" by a huge margin.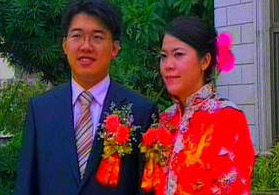 Yang Huiyan's wedding photo
(www.chinadaily.com.cn/.../09/content_6160144.htm)
Yang Huiyan is a 26-year-old girl who has just become China's richest woman according to Forbes. Unlike the other top people, she did not work her way up from the grass root level. She simply has a very rich dad.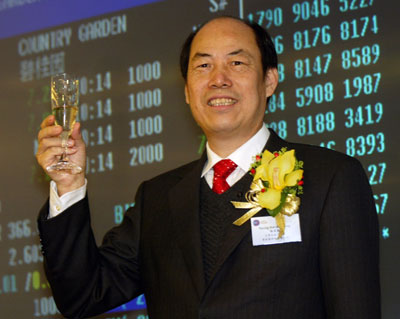 The father, Yang Guoqiang (known as Yeung Kwok Keung in Hong Kong) celebrates company's IPO in Hong Kong
(www.chinadaily.com.cn/.../09/content_6160144.htm)
The Ohio State University graduate now sits on the board of her dad's company, Country Garden (碧桂園), a real estate developing company, as an executive director. Country Garden became listed on the Hong Kong Stock Exchange in April this year, and Yang Huiyan is now estimated to worth 16.2 billion USD due to that fact that she holds 70% of the shares.
Yang Huiyan is just as low-key as her dad and hasn't done any interviews with media at all. Not long ago, one website even started a competition to hunt for her photos. Eventually, her wedding pictures became exposed. Much to many people's disappointment, this dorky looking Tsinghua University graduate got there first. The couple met through an introduction of some sort, and the groom's father is a high-ranked provincial official in the northeast . Dad said he felt this marriage gave him "good face".
More:
www.chinadaily.com.cn/.../09/content_6160144.htm
26-year-old is China's riches -- Forbes
Country Garden Soars 37% in Hong Kong Debut