This is the 5th hottest search keyword on Yahoo China today, 2,251,573 searches in one day.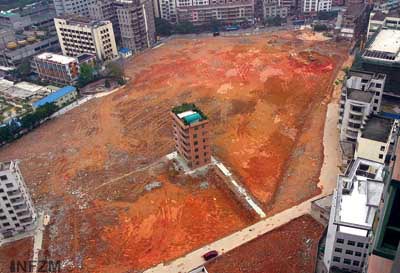 "Nail House" (钉子户) is a relatively new term in China. It refers to a standalone house in the middle of a demolition ground due to disagreement with compensation terms. The house sticks out like a nail. People started to realize that you don't have to move if you are not happy with the compensation after a woman in Chongqing put on a fight to guard her property and became famous with her Nail House. This time, the Nail House is in Shenzhen.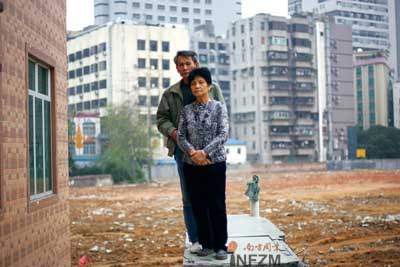 The old couple, Cai Zhuxiang and Zhang Lianhao, standing in front of their to-be-demolished Nail House in Shenzhen.
(http://www.dailyvc.com/story/n205566p1.shtml)
Mr. Cai's Nail House stands in the middle of the prosperous Luohu business district in Shenzhen. Apartments around it sold for more than 20,000 RMB per square meter but the developer's initial compensation terms were only 6,500 RMB per sm. Of course Cai was not happy. During this year-long negotiation, he and his family had to suffer threats, thefts and vandalism put on by the developer (Kingkey Group, which has a solid political connection and backing). They locked themselves up after 6 pm everyday and never went anywhere due to fears. He was even threatened by the city government official who told him "98% of all nail house owners die in car accidents" when he went there to report the threats he had been receiving.
Good news came through at the end of last month. Kingkey Group finally moved to put a stop to their daily loss due to the construction delay. They reached an agreement with Cai to pay him more than 12 million RMB for his house, which translates into roughly 16,000 RMB per sm.
However, Cai and his family continue to live in fear. They keep receiving extortion calls because everyone knows now that he is rich.
Source:
"Nail house" owner receives millions of yuan in compensation
http://sz.focus.cn/news/2007-04-12/301492_3.html
http://www.dailyvc.com/story/n205566p1.shtml