This is the No. 2 most searched keyword on Yahoo China today, 1,643,046 searches in one day.
"Rain" here does not pertain to the weather patter; it is the name of a hugely popular Korean pop star.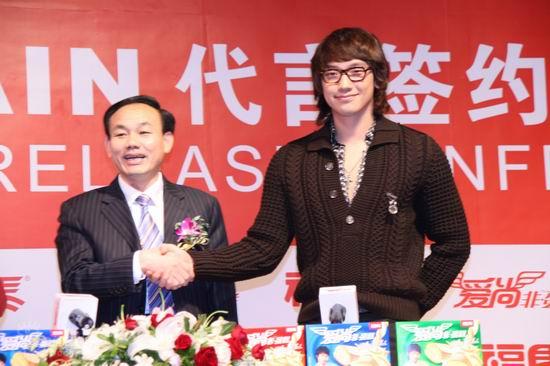 Rain shaking hand with the representative from the snack food manufacturer that he is endorsing. Guess you don't need me to point out which one is which.
(http://ent.sina.com.cn/x/p/2007-09-23/17511727146.shtml)
This 25-year-old from Seoul is the king of R&B and hiphop dancing in Asia right now. Yes, he is another so-called "Korean Wave" phenomenon. Recently he has decided to establish his own company. In other words, he will not have to split all these handsome endorsement fees with anyone anymore. No information on this particular endorsement contract, but Rain is currently estimated to worth 200,000,000 RMB.
"The Way To Avoid The Sun" by Rain
(http://youtube.com/watch?v=sJab5yCLD7w)
More:
The TIME 100 -- Are They Worthy?