The is No. 3 most searched keyword on Yahoo China today, 1,610,776 searches in one day.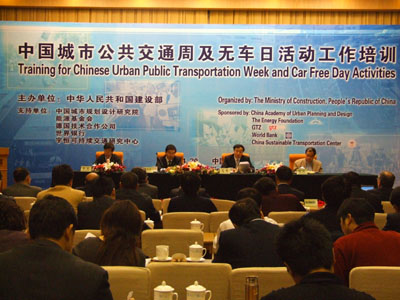 (http://www.gov.cn/gzdt/2007-09/16/content_750659.htm)
September 16 - 22 was China's first "Urban Public Transportation Week", 108 cities around the country participated in this act to clean up the air. To set a good example for the people, all government officials were supposed to use public transportation on the Car-Free Day.
Mayor of Chongquing Riding Bus To Work
(http://www.cq.xinhuanet.com/news/2006-08/17/content_7802766.htm)
According the the preliminary estimate, one Car-Free Day in China could potentially save 33,000,000 liters of fuel, eliminate 3000 tonnes of toxic emission and save hundreds of people from car accident related injuries/deaths.
However, netizens complained that these government officials were really just putting on a show. This show attracted a lot of media reporters who followed the officials onto the buses and subway, worsening the already overloaded transportation system.
Just another typical day in China