This is the second most searched keyword on
Yahoo China today, 1,347,203 searches in one day.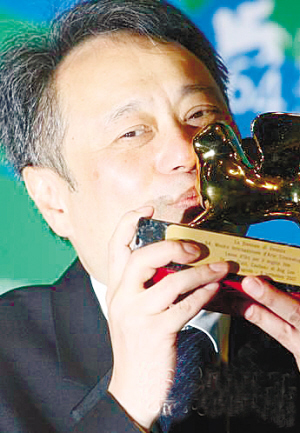 (http://ent.sina.com.cn/m/c/2007-09-10/18091710613.shtml)
The Taiwanese director took home yet another golden lion from the Venice Film Festival, second one within three years, a record that is hard to break.
"Lust, Caution" (blog entry) won the Best Film Award. Ang Lee said he actually felt a little bad since it is the rule of the Festival that once a movie has won the Best Film, the actors in the movie are automatically excluded from their respective categories. Ang Lee mentioned that he was especially impressed by Tang Wei's performance in "Lust, Caution". Tang had to bare quite a lot of skin and perform physically challenging love scenes. The movie has been rated NC-17 in the States and hence making it's Oscar chance slim, but Ang Lee doesn't seem to be too worried about it.
"Lust, Caution" Trailer
(http://youtube.com/watch?v=4gVk0ZqO8vg)
Interestingly, apparently Ang Lee did consider Zhang Ziyi (blog entry) for the role, but he thought he needed someone a lot younger and fresher than Zhang, and he chose Tang Wei the newbie. Later on Lee found out that Zhang is actually just one year older. Zhang complained about it when she called Ang Lee to congratulate him after the ceremony.
References:
http://ent.sina.com.cn/m/c/2007-09-10/09081709456.shtml