For those of you who likes Zhang Ziyi, watch out for this new comer. Zhang Jingchu (张静初) has just made her Holywood debut a few days ago. Hoping to tag along Jackie Chan's Holywood success, Zhang Jingchu plays the role of grown up version of the Chinese Ambassador's daughter, Soo Yung, in Rush Hour 3.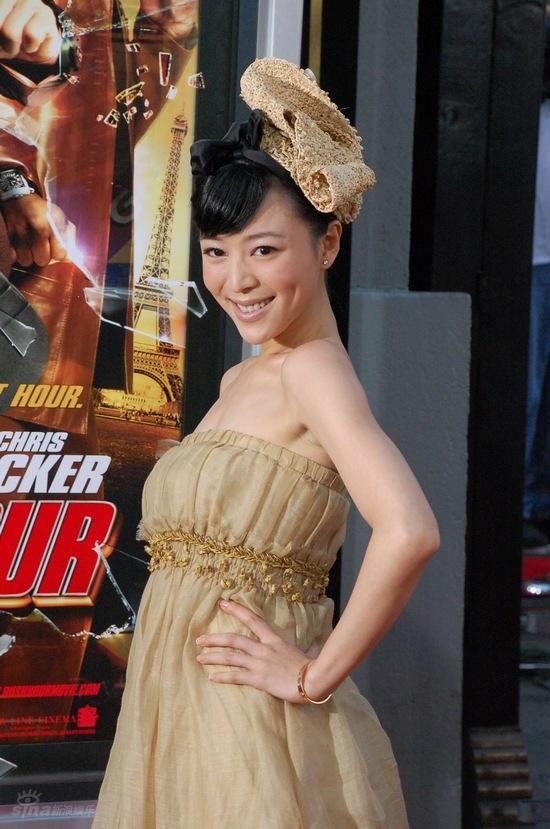 Zhang Jingchu at Rush Hour 3's premier at the Chinese Theater in Holywood, July 31st 2007.
(http://post.baidu.com//f?kz=239246432)
Born in Fujian in 1980, Zhang Jingchu graduated from the prestigious Central Academy of Drama in China (she was one year below Zhang Ziyi and twelve years Gong Li's junior). In 2005, she was chosen by Time magazine as one of the Asian Heroes of the year:
http://www.time.com/time/asia/2005/heroes/zhang_jingchu.html
(http://image.baidu.com/i?ct=503316480&z=0&tn=baiduimagedetail&word=%D5%C5%BE%B2%B3%F5&in=22&cl=2&cm=1&sc=0&lm=-1&pn=21&rn=1)
I haven't seen any of her movies yet so cannot comment on it. But I remember seeing this photo above on a different website. That website asked a well know Korean plastic surgeon to comment on the top 10 female movie stars in China and he chose Zhang Jingchu's face as the perfect face for an Asian women due to the good proportions. I also think she is quite pretty. Anyway, if Zhang Jingchu does make it big and becomes the next Zhang Ziyi, just remember you first read about her here, in my blog!
Rush Hour 3 Official Website